Why buy a Smoke Hood?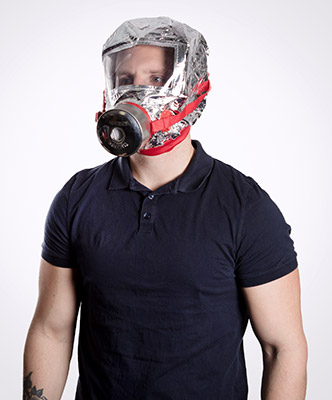 Purchasing a smoke hood does not imply paranoia – it is a sensible measure to protect yourself and your family or colleagues in the event of a fire. It should be seen as standard as installing a smoke alarm, fire extinguisher, or fire blanket in your home or place of work.
If your exit from a building could be potentially blocked in the event of a fire, or you are on a level that fire crews cannot reach with a ladder from the exterior of the building, a Firemask smoke hood will provide you with up to 60 minutes of valuable filtered air to aid your escape. Better yet, the RPD60 model comes with a pair of Fire Gloves that will protect your hands in temperatures up to 300°F, allowing you to use door handles heated by the fire that otherwise may be too hot to touch.
The FM60 smoke hood comes in a wall-mountable plastic case, perfect for hanging in the prime position should it need to be used in an emergency. The RPD60 version comes in a compact zip-up case, ideal for keeping in a bed/desk-side drawer or a vehicle. Both versions of our smoke hood come wrapped in vacuum-sealed packaging, keeping them good to use for up to 5 years from manufacture.