Smoke Hood and Fire Mask Products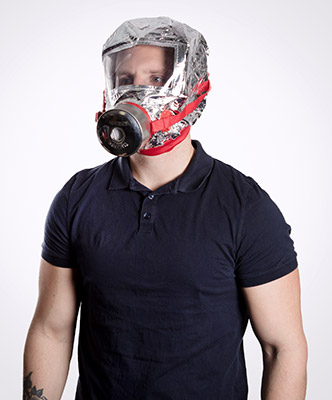 As you are here, you have probably made the wise decision to maximise the safety of yourself and your family in the event of a fire by investing in a fire mask (or "smoke hood" as they are also known).
We aim to assist you in your purchase by highlighting the pros and cons of some of the various fire masks currently available on the market.
The prices of smoke hoods greatly varies between manufacturers, so it is important to understand what you are getting for your money. And as we have found out, paying more doesn't necessarily mean you get more. Likewise, does buying the cheapest model available put your safety at risk? Check out our fire mask reviews to learn more.
What makes a good fire mask?
There are a range of fire masks on the market, so how do you know which one to purchase?
We try and help you make the best choice for your situation, whether you are at home and want to protect your family, in a multi-storey office, or a busy factory for example.
You will need to take different concerns into consideration depending on your particular reason for purchasing a smoke hood – price being possible the most obvious one. But what price can you put on the safety of those in your care?
If it's possible that the fire mask will be used by children, ensure the hood will fit tightly around little necks – as you are probably aware, smoke is the biggest killer in a fire, so minimising the amount of smoke that can enter the hood is a priority.
Another important factor to consider when purchasing a smoke hood is the length of time it will afford you to escape the building you need it in. Some offer only 15 minutes of breathable air, while others provide up to 60. If you live at the top of a high-rise block of flats or work at the top of a multi-storey office block, how long will you need to reach the outside world in an emergency situation?